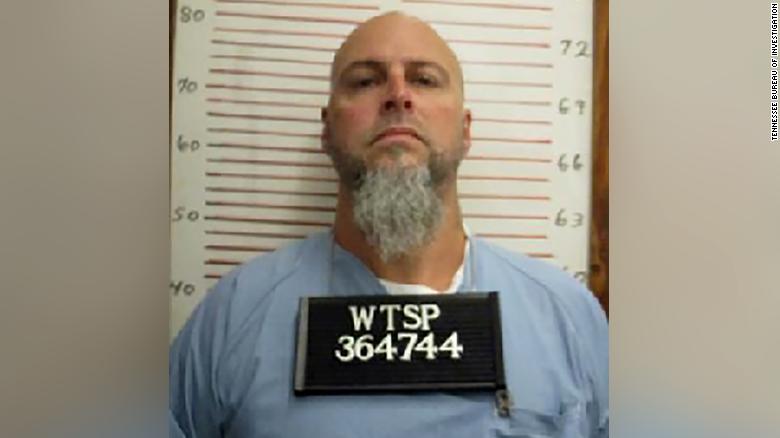 A unsafe inmate suspected of murdering a corrections officer he sexually assaulted before he broke out of a Tennessee prison was arrested on Sunday on the fifth day of a massive manhunt.
Police in Tennessee say an escaped convict suspected of killing a corrections administrator surrendered without incident seven hours after authorities received a tip to his whereabouts.
Rewards totaling $57,000 are available for information leading to Watson's arrest.
According to an affidavit, Watson had been released temporarily for mowing duties at 7 a.m. earlier that day, and had access to a golf cart and a tractor.
The Tennessee Bureau of Investigation (TBI), the state's main law enforcement agency, announced the capture of Curtis Watson, 44, on Sunday. Officials say he escaped on a tractor, and later abandoned it about a mile away.
Watson was a person of interest in the Wednesday homicide of Debra Johnson, 64, who worked as a correctional administrator at the prison.
It was not immediately clear whether Watson and Johnson had been in contact before, but one official said it was "not uncommon for her to know the inmates who work on the property".
Johnson, a 38-year veteran employee of Tennessee state, was found in her home on prison property was found with a cord wrapped around her neck Wednesday morning. They said it's possible he left the state. The bureau is not only involved in the search for the escapee but also conducting the investigation of Johnson's death, in which Watson is a suspect, he said.
A timestamp on the photos, taken from a doorbell camera at an area home, show they were taken around 3:30 a.m. Sunday.
Watson was wanted in charges of murder, burglary and sexual battery. Watson illegally confined his wife while using an aluminum baseball bat in July 2012, court documents showed. She was the first TDOC employee to be killed in 15 years, The Commercial Appeal in Memphis reported. He previously was in prison for aggravated child abuse and was released in 2011.