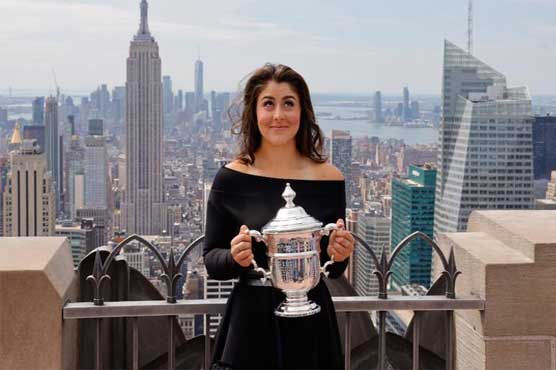 The teen tennis star enjoyed the traditional winner's photoshoot with a backdrop of the NY skyline on Sunday, and can now reflect on an incredible run of form which will take her to the heady heights of world number five, having started the year outside the top 100.
As the 19-year-old continued her media tour south of the border, the jubilation over her win continued to the north.
"I've been visualising ever since I was 12 or 13 when my wonderful mother introduced me to it", she said.
Crombie said while timing is dependent on the tennis star's schedule, she's planning to offer Andreescu the honorary key to the city.
Founded in 1987, Maison Marie Saint Pierre has two boutiques in Montreal and a third in Miami.
Humble yet ambitious, what stands out about Andreescu's remarkable rise is her desire and will to be the best.
Barty officially regained top spot in the world rankings on Monday after enjoying a stellar season highlighted by French Open glory in May, plus titles in Miami and Birmingham and appearances in the second week at all four majors for the first time. "I honestly don't think Serena showed up and I have to figure out how to get her to show up".
"I'd love that challenge". As a mother, I had that feeling that never lies to you.
Some noted her quintessentially Canadian response to winning the final match when Andreescu apologized to the stadium crowd for beating Williams.
"It puts it into perspective that there's no reason why other children around that age can't do what she's doing - it just takes a lot of hard work and determination", Preciado said. The Romanian immigrants remain stoic, silent, and calm under pressure, much like their daughter, who's defeated a series of players under the national spotlight to get this far in the U.S. Open, including Belgium's Elise Mertens, and Switzerland's Belinda Bencic. "I made history in Canada, I'm truly blessed", said Andreescu.
"That's why we play this game, to test ourselves against the very best".
"I love Bianca, I think she's a great girl, but I think this is the worst match I've played all tournament".