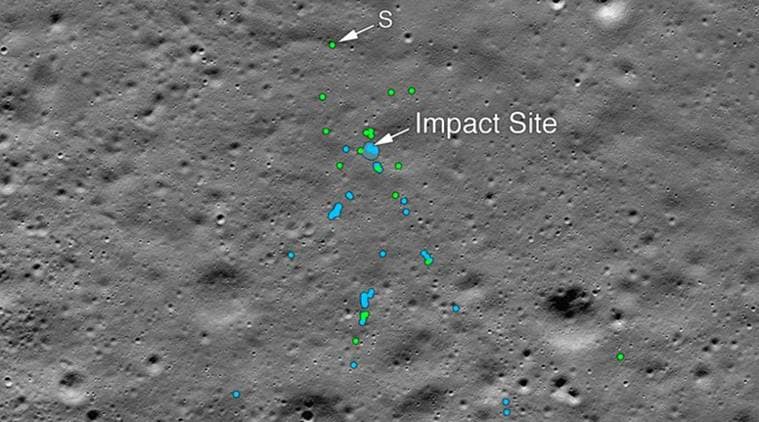 Nearly three months after India lost contact with Chandrayaan-2's Vikram lander, a NASA satellite orbiting the Moon has found debris of the crashed lander with the help of a Chennai engineer. "After receiving this tip, the LROC team confirmed the identification by comparing before and after images", said NASA in a statement.
Shanmuga Subramanian, 33, an IT professional from Chennai, contacted the LRO project.
The debris first located by Subramanian is about 750 metres northwest of the main crash site.
Further, he zeroed in on his observations and tweeted out the possible crash site of the lander.
"I made a decision to search around 2×2 sq km area around the expected landing coordinates and concentrated my efforts north of landing point, as Vikram approached the (designated) area from the North Pole", he added. However, after a three month search, NASA's Lunar Reconnaissance Orbiter Camera has discovered the wreckage of Vikram about 600 km (372 miles) from the Moon's south pole. On Monday, Subramanian said he received a message from NASA confirming his discovery. "We've got the image of Vikram on the lunar surface from our orbiter".
India's Chandrayaan-2 mission to the moon included a lander called Vikram, which was meant to gently land on the lunar surface near the south pole on September 6. "When I compared with old images from 2010, I found this was not there, so I thought, it has to be a piece of the lander".
In an email posted to Twitter, LROC deputy project scientist John Keller left no doubt the dot Mr Subramanian saw was part of a lunar crash zone. "Then I reached out [to] NASA", Subramanian told Al Jazeera.
"The Chandrayaan2 Vikram lander has been found by our NASAMoon mission, the Lunar Reconnaissance Orbiter". I strongly suspect engineers will be examining the LRO data carefully, since the direction and velocity of the impact may give them clues as to what went wrong.
The images confirm what had always been expected: that Vikram crashed while attempting to land. An image of Moon with blue and green dots show the impact point of Vikram and an associated debris field.
This isn't the first time, the mechanical engineer and computer programmer has been actively locating the lander's debris on the lunar surface. "I hope ISRO will again have a successful Chandrayaan-3 and they will be able to land on the moon next time".
Subramanian said he worked for up to seven hours everyday in his Chennai residence to locate the lander.
Chandrayaan-2's Vikram lander had attempted a soft landing on the moon on September 7, but lost communication with the ISRO minutes before touchdown.