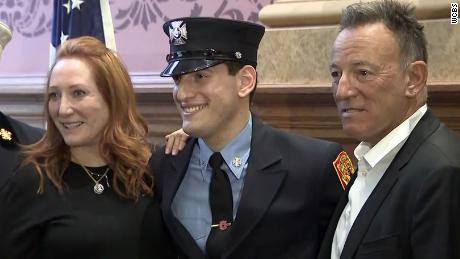 Check out what's clicking today in entertainment.
Sam was sworn into the city fire department along with 15 others.
Her father and mother, Bruce Springsteen and Patti Scialfa, were on hand for the swearing-in of their son.
In this photo provided by the Jersey City, N.J. Mayor's Office, Sam Springsteen salutes during a ceremony as he is sworn in as a Jersey City firefighter, Tuesday, Jan. 14, 2020.
Patti Scialfa was also there for the 26-year-old's big day, as local television cameras showed her hugging her son, who was one of 15 new firefighters sworn in. "He was very dedicated for many years, and we are just delighted for him today".
The other new Jersey City firefighters: Sean Brady, John Bramley Jr., Andrew Crilly, Francis Degnan, Richard Ferment, Jason Garrison, Luke Gibbons, Conor Keim, Thomas McFarlane, Angel Ortez, Shane Richeal, Omar Soto, Connor Wujciak and Francesca Zappella.
"It's my son's day, so I'm staying away", said Bruce Springsteen.
Since 2013, 204 new firefighters have been hired, bringing the department to a historic total of 666 firefighters and superiors in uniform.
Sam graduated from the Monmouth County Fire Academy in 2014 and took a civil service exam to become a member of the department in 2017, according to CBS New York.