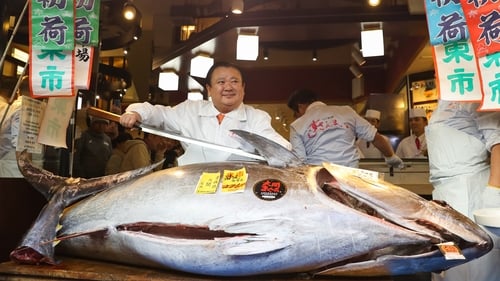 Kiyomura Corp., operator of the Sushizanmai sushi restaurant chain, successfully bid for the 276-kilo tuna with a winning price of 193.2 million yen ($1.79 million), the second highest on record.
The whopping silver-scaled bluefin fish, caught off the northern Aomori region of Japan, weighed in at 276 kg (608 pounds), which was the first bluefin tuna of the New Year sold at auction.
Last year, Kimura paid a record $3.1 million for a 612-pounder.
"This is the best", Kimura said, according to Agence France-Presse.
He also added that despite the high price, he was happy to win as it is the first New Year's auction in the new era. It was the second highest price in history following one recorded previous year. "I want our customers to eat very tasty ones this year too", Kimura said at the pre-dawn auction, the AFP news agency reported.
Kiyoshi Kimura poses with a bluefin tuna that was auctioned for 193 million Japanese yen (about $1.8 million) in Tokyo, Japan.
It was the second time the Toyosu market has held the New Year's auction after it took over operations of the Tsukiji market, located about 2 kilometers away, in October 2018.