Speculation suggests that Samsung may also include the earbuds in the box with the upcoming Galaxy S20, but this hasn't been confirmed.
The fact that Samsung will refresh the Galaxy Buds with a new, Galaxy Buds+ model, is already known.
Last year, Samsung kept the Galaxy Fold under lock and key until the last few hours before Unpacked 2019.
The slow trickle of leaks surrounding the new Samsung Galaxy Buds+ hasn't given us much, other than a "+" on the name, a similar design, and some new colors.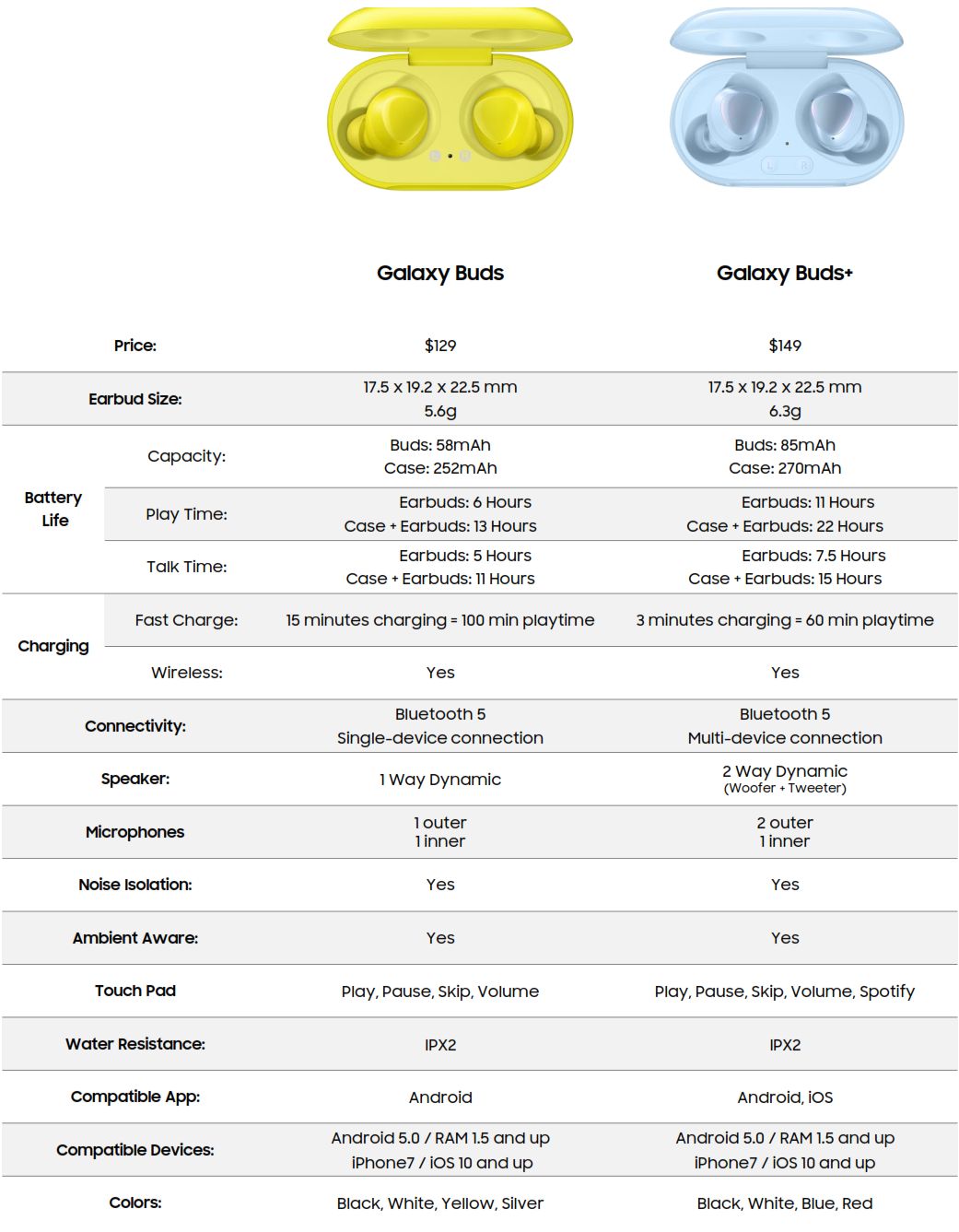 Samsung Accidentally Leaked The Galaxy S20 On Their Website
Renowned leakster @evleaks has shared a detailed spec sheet for the Galaxy Buds+ which not only highlights all of its specifications but also reveals the price.
As you can see, the camera bump on the back takes quite a lot of space, but this is probably what Samsung wants in the first place. Galaxy Buds: 13-hours, Galaxy Buds+: 22-hours, AirPods/AirPods Pro: "More than 24 hours of listening time (with Charging Case)". The news gives more strength to the rumour that said that the Galaxy Buds+ would be launched with the Galaxy S20 smartphone series.
Longer battery, shorter charge time: Though the Galaxy Buds Plus are the same size as the original Buds, the new models gets a bigger battery - 85 mAh verus 58 mAh in last year's earbuds. When you combine that with 256 GB of super-fast UFS 3.0 storage, you should have an excellent everyday experience. The South Korean giant has slashed the price of the Galaxy A70s, bringing the cost down to Rs 26,999 across offline stores. It looks like this is through some kind of interaction with the Galaxy Buds+'s touchpad so I'm curious to see how that works. Otherwise, the new earbuds have upgraded speakers and an additional microphone, so expect improved audio. The potential for problems is just one of the reasons.