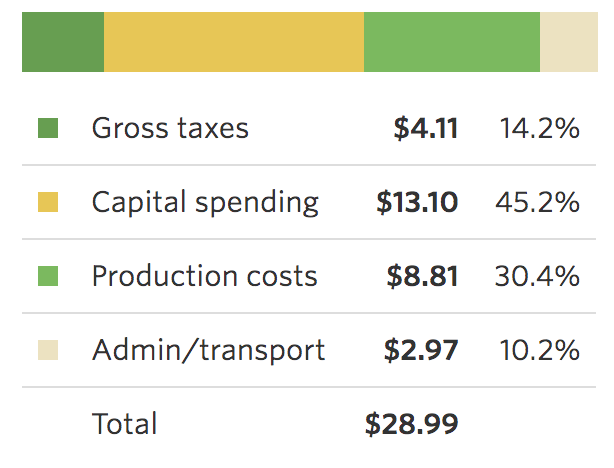 Oil markets are under considerable pressure as Saudi Arabia takes desperate action to get Russian Federation back to the negotiating table and governments around the world clamp down on travel and social interaction to curtail the spread of COVID-19.
Last week oil prices hit their lowest levels in around 17 years as the coronavirus pandemic continues to weaken global oil demand, and with Saudi Arabia and Russian Federation due to increase their crude oil production from the beginning of April.
Oil prices have fallen about 45% so far this month.
Brent crude was trading down $1.13, or 4.2%, at $26.48 a barrel after rising to a high of $28.29. U.S. West Texas Intermediate (WTI) crude CLc1 gained 65 cents, or 2.8%, to settle at $24.01. "It will probably be impossible for oil prices to continue to stabilize".
USA crude touched a high of $25.10 a barrel early in the session and was at $24.61 a barrel, up 60 cents, or 2.5 per cent, by 1243 GMT. US gasoline futures RBc1 , meanwhile, soared over 30% early day and closed up about 8%.
The Fed on Monday rolled out an array of programs including backing for corporate bond purchases for the first time. Senior Democrats and Republicans said on Tuesday they were close to a deal on a $2 trillion coronavirus economic stimulus package.
As the world's largest economy faces the risk of a recession, the stimulus package would increase crude oil demand in the US, and push crude prices higher.
Although oil futures received a "sentiment-led boost this morning, the challenge for the physical oil market is a looming and growing oversupply which will cause a "nowhere to hide" situation very soon", said Bjornar Tonhaugen, head of oil markets at Rystad Energy.
Industry group the American Petroleum Institute (API) was scheduled to release its supply report on Tuesday at 4:30 EDT (2030 GMT), followed by the USA government's figures on Wednesday.